Venue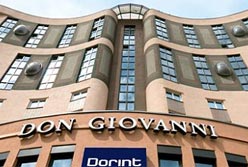 All technical events of the conference, including the keynotes and presentations, tutorials and workshops, will take place at Hotel Dorint Don Giovanni Prague (http://hotel-prag.dorint.com/en, GPS coordinates Public transport in Prague is tourist friendly and reliable, with regular service running from early morning to midnight. A single 32 CZK (cca 1.5 EUR) ticket is valid for 90 minutes on all bus, tram and subway lines and can also be purchased in the airport arrivals hall. Connection search is available at Google Maps Transit.
A taxi service from the airport is available at all times, the trip duration is around 30 minutes, possibly longer during rush hour. The cost of the trip is 500-600 CZK (cca 20-24 EUR), we recommend asking the driver about the cost before the ride. The airport supports two taxi companies, AAA Radiotaxi and 111 Radiocab.
Accommodation
The conference hotel provides a special conference rate of 80 EUR per room and night for single and double rooms, breakfast included, valid from April 16 to April 30, 2013. To book a room at this rate, follow these steps:
Open the special hotel registration page at http://www.dorint.com/en/fb-acm.
In the login box at the right hand side, enter ACM as username and dorint2013 as password. After the confirmation dialog, you will be returned to the same page.
Select Dorint Hotel Don Giovanni Prague as the contractual hotel at the bottom of the page. A standard registration form will appear.
After filling in the registration form for the conference date range, a special Company Rate will be available for selection.